Contact
---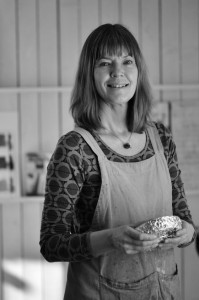 The garden and studio is situated in a small village in southern Sweden and the family have lived on this ground since 1986. Step by step we have transformed the house and land and today we are almost self-sufficient on vegetables, honey and flowers.
My background, starting in 1986, as a fiberartist working with weaving and collage has over the years gradually changed towards painting.
 Since 2011 I have combined my passion for bee-keeping and art by taking up the two thousand years old technique of encaustic, witch in short is painting with beeswax and oil.
Every year I open up my studio and garden to visitors for a few days (please check for dates at the "News"-section)
Welcome to have a look around my site.
Helle Christensen Hjort
hellesponten@hotmail.com